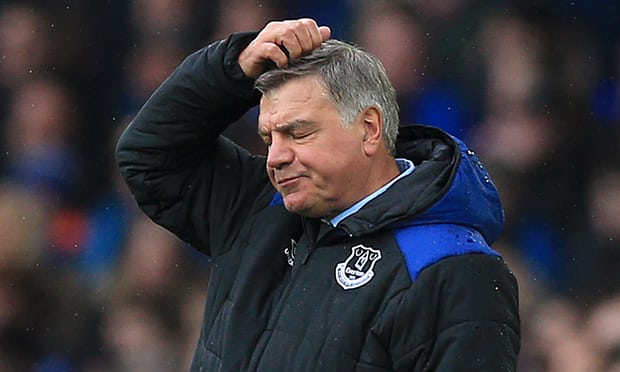 • Allardyce makes around £9m from Goodison tenure
• Everton keen to appoint Marco Silva as next manager
Everton have ended Sam Allardyce's miserable six-month spell as manager and aim to replace him swiftly with Marco Silva.
Allardyce met Farhad Moshiri, Everton's major shareholder, at 8.30am on Wednesday in London and was told in a brief discussion that he did not feature in the club's long-term plans. The 63-year-old had another year remaining on the 18-month contract he signed when succeeding Ronald Koeman last Novemberand, as he obtained a deal with no break clause, he is expected to leave with a £6m pay-off. He will have made around £9m for six months' work.
The former England manager, sacked by Everton on the day he could have been announcing the country's World Cup squad, guided the team from 13th to eighth in the Premier League following a turbulent start to the season under Koeman and then caretaker manager David Unsworth. His managerial style never endeared him to Everton supporters, however, and there was mounting hostility towards Allardyce over the final months of the season.
"On behalf of the chairman, board of directors and Mr Moshiri, I'd like to thank Sam for the job he has done at Everton over the last seven months," read a statement from the club's soon-to-be new chief executive, Professor Denise Barrett-Baxendale. "Sam was brought in at a challenging time last season to provide us with some stability and we are grateful to him for doing that.
"However, we have made the decision that, as part of our longer-term plan, we will be appointing a new manager this summer and will be commencing this process immediately. Again, we'd like to place on record our sincere thanks to Sam for his work with us over the last few months and wish him well for the future."
Allardyce's backroom team of Sammy Lee, Craig Shakespeare and goalkeeping coach Martyn Margetson are also expected to leave Goodison Park as the club undertakes another expensive overhaul of its management structure. The next manager will be the third appointed by Moshiri since he acquired a 49.9% stake in Everton in February 2016 with Roberto Martínez, a manager he inherited, Koeman and Allardyce also departing with lucrative pay-offs for their poor performances.
Moshiri's first choice to replace Allardyce is former Hull City and Watford manager Silva, who was sacked by the Vicarage Road club in January after a dramatic downturn in results. That followed what Watford claimed was an "unwarranted approach" by Everton that impacted on the focus and results of the Portuguese coach.
Watford have made an official complaint to the Premier League over Everton's alleged illegal approach and talks over a compensation package between the two clubs have failed to reach an agreement. While Silva is out of contract and technically available to replace Allardyce immediately, the dispute over Everton's approach complicates that process and could lead to arbitration.
Everton officials are expected to reopen talks with their Watford counterparts this week in a bid to resolve the matter and make a swift appointment in Silva.