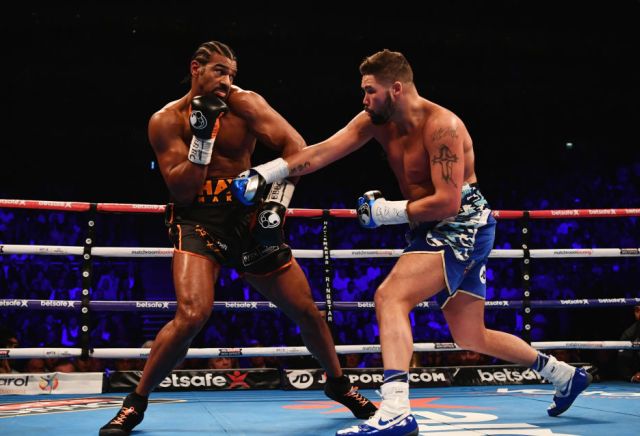 The long-awaited rematch between the two Brits takes place at the 02 on Saturday.
Bellew v Haye 2
This weekend sees the rematch between Tony Bellew and David Haye at the O2 Arena in London. Aside from Anthony Joshua's now routine mega-fights, this is arguably the biggest fight of the year involving British fighters. Last time out Haye failed to blast Bellew out in the early rounds and Bellew had the better of many exchanges, surprisingly standing up to Haye's vaunted power. Haye suffered a ruptured Achilles tendon in the 6th round and, despite gamely soldiering on, eventually Haye's trainer Shane McGuigan threw in the towel in the 11th round as Haye become more and more of a sitting duck. Clearly Haye got the fight wrong tactically and his body did not hold out. Since that fight Haye has suffered another serious injury to his bicep which required surgery and delayed the original date for the second fight between the pair.
Despite having the first fight as a measuring stick, the rematch remains very tough to call. Haye's tactics are surely going to change after the Liverpudlian was able to stand up to Haye's biggest shots. There is a strong argument that after numerous injuries and long periods of inactivity, Haye has lost the snap in his punches. His speed does not look what it once was and he didn't trouble Bellew with his power shots before suffering his Achilles tendon injury. Haye is therefore likely to come in lighter, move more and box Bellew, a tactic Haye has already talked about in the build up. Haye has always been known as a big puncher but he's also a superb boxer and will certainly be able to trouble Bellew and perhaps even outbox him over the course of 12 rounds.
The previous fight would also suggest that while Bellew can box Haye, he probably does not have the power to really hurt and overwhelm a fit Haye. Even after Haye suffered his injury in the 6th it still took Bellew until the 11th round before managing to stop him. While this is heavyweight boxing (albeit between two ex-cruiseweights) and a clean shot can stop the fight at any time, it looks to me like one going the distance.
What makes this fight so intriguing is the number of unknowns. Was the previous fight a fluke victory for Bellew, bought about by Haye's injury? Or have the numerous injuries suffered by Haye over the years (and there have been numerous) caused his reflexes and power to diminish? Throw into that a new trainer in Ismael Salas in David Haye's corner and there is a lot to ponder. The factor that swings it for me are the injuries; while there is little difference in age between the two fighters, Bellew has been relatively untroubled by serious injuries and looks to actually be peaking in his career at 35; meanwhile, David Haye at 37 seems well past his best and has years of wear and tear on his body.
Bookmakers still favour an early KO win for Haye, but I think he will start more conservatively and box and move and if I was to side with Haye I'd be looking at the stoppages nearer rounds 7-9. However, I fancy this fight to go the distance, and for the reasons stated above in regards to injuries and condition I'm going for the fresher fighter to win. Bellew to win on points at 6/1 is where my money's going.