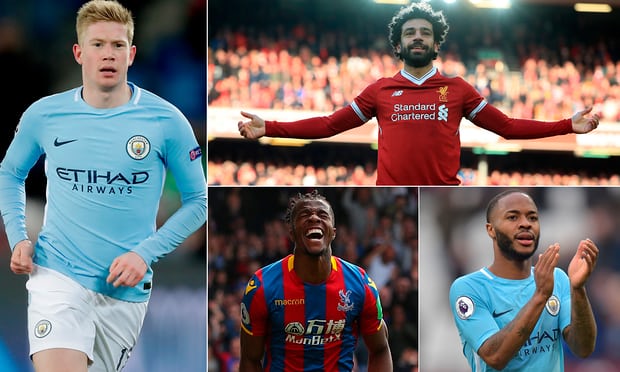 From Mohamed Salah to Kevin De Bruyne, via some delightful players elsewhere in the division
review of the 2017-18 Premier League season. We have nominated some contenders for this category but this is just to get the discussion going: offer your suggestions below the line …
Now there can be no doubt: Salah is the most entertaining Egyptian to arrive in English football since Mohamed Al Fayed. Once a Chelsea cast-off, he needed one campaign to become a Liverpool icon and race within sight of the planet's Untouchable Duo, Cristiano Ronaldo and Lionel Messi. On his debut against Watford he won a penalty for Roberto Firmino and later helped himself to a goal; that was pretty much how the rest of his campaign panned out as he wreaked havoc on opponents across the land. Jürgen Klopp's Liverpool proved to be the perfect environment and he proved to be the perfect recruit for them, a snip at £34m. He has been thrilling to watch, somehow allying breakneck speed and sneaky feet with cold-blooded, even witty, decision-making. He made something happen nearly every time he got the ball. Usually a goal. And what a variety of goals! Slaloming between two defenders before curling the ball into the top corner against Everton; sending Ben Davies sliding in the wrong direction before bewitching Jan Vertonghen and scoring against Spurs from a tight angle; lobbing Ederson from 30 yards against Manchester City; sprinting for 60 yards to plant the ball past Petr Cech against Arsenal; blasting a volley past Jack Butland; looping a header over Asmir Begovic. Nearly everyone who faced Salah suffered. And everyone who watched him left satisfied.
While Salah has approached comparability to Ronaldo and Messi, Manchester City's wondrous playmaker can be ranked alongside Pythagoras and Euclid – or maybe above them, for De Bruyne is some class of geometrician-magician, wowing with the precise lines and arcs he traces with any part of his foot from any place on the pitch. The boxer Joe Louis used to warn his opponents "you can run, but you can't hide" but De Bruyne puts a positive spin on this, sometimes literally, effectively telling his team-mates "you can run, and I will find you". There is a beautiful efficiency in his improbable passing, and an ice-cold rage that appears to drive him. When he shoots it seems like he means to settle an argument for ever. There was certainly no way Chelsea were going to find a comeback to his peremptory strike on his return to Stamford Bridge in September. He's brilliant. End of.
When Luke Shaw played well it was because he used José Mourinho's brain, said Manchester United's manager on one famous occasion. If that is true, then when Mourinho masterminded another clean sheet for United, it was usually because of De Gea's hands. The goalkeeper was United's most influential performer again this season, continually producing saves that defied reasonable expectation and gave an illusion of solidity to the rest of United's backline.
England's best player had an outstanding campaign, scoring and creating prolifically, terrorising defences and really annoying people who continue to claim there's a good reason to badmouth him. Sure, he's not flawless – his finishing has improved dramatically but he's still guilty of surprising misses but, then again, so is Salah – but overall he is an exhilarating player to watch and a tireless, conscientious, gifted and consistently effective team player. If Manchester City toyed with the notion of selling him last summer, they've surely thrown that idea in the bin, which is where some other thoughts about Sterling belong.
The top five clubs do not have all the exciting talent. There are some delightful players at lesser sides: Pierre-Emerick Aubameyang, for instance, looked lethal after his arrival at Arsenal; Riyad Mahrez was often a joy to watch despite the frustration of his thwarted move to Manchester City and Leicester's sagging; Xherdan Shaqiri did some fine things at Stoke; Christopher Schindler was quietly classy at Huddersfield; but perhaps none of them were as consistently dangerous, eye-catching and influential as Zaha, who triggered panic and glee nearly every time he ran with the ball. "I was reading the programme before the match and there was a statistic that claimed Zaha had only two assists so far this season," said Roy Hodgson after Crystal Palace's 3-0 win at Leicester in December. "But as far as I can make out Wilf is involved in at least 80% of what we create."